7 Charming Sisters
---
When people send me messages and ask if they can send me products to review them, I almost always say no. It's not because I don't like free stuff, but I don't want my blog to turn into a "HEY..come buy stuff" kind of place. But when 7 Charming Sisters asked if they could send me free jewelry, after I looked at the website, I jumped up and down. *See my affiliate disclaimer at the bottom.
I am not a "jewelry" kind of girl. I like it and I cherish certain pieces like my father's ring and the set of pearls that Le bought me for my first mother's day. I love earrings and fun rings and big bangly bracelets, but I hate spending a fortune on something just for me.
Each of the "7 Sisters" has a different style personality and a different line of jewelry to go with it. After perusing the 7 Charming Sisters site, I took a "style quiz". Um…my style is usually sweat pants or gym shorts, but a girl likes to dream about big, fancy parties right? I was only kinda shocked to learn I was a "Sexy Nerd". I mean, duh!
I loved their pieces so much that I polished off several of the women on my shopping list (including some for myself) by buying some more! Like who wouldn't love this statement ring!
And if you know me, these earrings had me at their name "All That Jazz"
I am so crazy about the pieces that 7 Charming Sisters sent me & how affordable their prices are, I'm giving away a pair of earrings on Instagram today!
You or someone you love can go straight to Instagram today and enter to win these fantastic earrings. 
So now you've seen all the fun stuff I looked at, you can see it all for yourself and pick up some extra pieces for all of your favorite women in your life.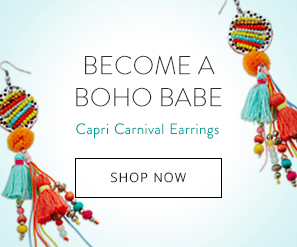 Is there a place online that you love to shop? Tell me more about it because shopping from the couch has made me even more of a homebody & I LOVE it!
***Because this is an affiliate post, I may receive a small compensation for you buying from this site.